Trends and fads come and go in the skin care industry, but some things should remain the same. Primarily, I'm talking about ongoing, regular skin care combined with healthy lifestyle habits.
Trial and error with skin care products is common and expected. You may go through several cleansers, lotions, serums and exfoliating products before you find ones that make a difference in your skin. After that, consistency is the key when it comes to skin care effectiveness. Some people who complain about the results of products are inconsistent or lazy when it comes to using their products. They may also lack patience or have unrealistic expectations.
The truth is you can get great results from using a skin care line that utilizes safe and effective ingredients; keeping in mind consistency is the key. An effective line can lighten age spots, diminish the look of fine lines and wrinkles, get rid of redness and control acne. Combined with proper nutrition, water, sleep and exercise, you can absolutely achieve healthy glowing skin.
It's also important to include regular visits to your aesthetician. But remember, great skin doesn't come from just one visit to your aesthetician, just like a great body doesn't come from one visit to the gym. For example, if you are 40 years old, keep in mind it took 40 years for your skin to show the signs of aging and sun damage. Nothing will repair that damage overnight. However, using quality safe, effective products consistently will help you achieve results you are looking for.
People ask me all the time; can I use just two products on my skin? The answer is yes, but honestly, the recipe for great healthy skin requires more. Just like in baking, which most often requires a specific combination of ingredients, if you leave out one or two ingredients you will not get the desired outcome.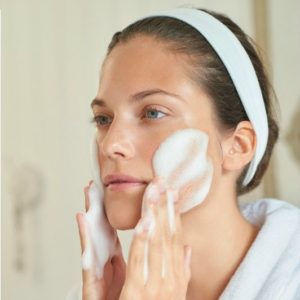 Earlier I mentioned patience. Some clients feel it takes too long to have better conditioned skin. We are all busy, but a simple four-step home regimen really only takes about five minutes to help treat wrinkles, even up skin tone, control acne and improve the tone and texture of your skin. Keep in mind too that while you sleep your skin is hard at work to regenerate itself. Cellular turnover is faster at night. Removing make up and proper cleansing will allow your products to work more efficiently, and your skin will be better able to repair itself. Your treatment products like Glycolic and lactic acids, along with your balancing products, will absorb more effectively. I promise you that being consistent and having realistic expectations, using safe and effective products will get you to the results you desire. Remember skin starts from within!!